At about 3:30 last night, I was lying in bed, drifting off to sleep. My window was open to admit the warm night air, and I opened my eyes as a loud motorcycle passed outside. The noise disturbed the street dogs, and I rolled my eyes as dogs across the city began howling and barking.
My bed began to rock, gently. I've felt a few minor tremors before, so I wasn't alarmed as my building began to quiver lethargically. The gentle pulses massaged me in my warm bed. Our big apartment building creaked softly as it swayed slowly in the quiet night, like a the leaves of a tree stirring in a calm evening breeze.
Suddenly, my heart dropped through my stomach. A million things shot through my mind as my room exploded. My bed started shaking violently. My wardrobe doors were flapping open and slamming shut. Books and trinkets on my table crashed on the floor. The noise was deafening.
What happened next is a blur of noise and panic. I had only one thought: get out.
I jumped out of bed. The building was shaking viciously, knocking me off my feet. It was as if a giant man had a hold of me, and was shaking my fragile body like a baby. Instinctively, I reached for the door handle and left my room at full speed. My body slammed into the walls of the hallway and I was almost shaken from my feet again. I punched my flat mates' door as I passed to wake them.
As I exited our hallway and entered our living room, I hurdled chairs and tables that were thrown in my path: tripping and sprawling across the floor didn't slow me down. Books and things came tumbling off of their shelves. In the kitchen plates and cups were breaking. Pans were falling, clattering.
I slammed into the apartment door, and by some miracle my key hit the lock first time. I didn't even realize that I'd grabbed my keys as I left my room.
I was in the corridor now, sprinting as best I could, bouncing off the walls as I went.
Women and girls were screaming inside the doors I was flying past. A man was yelling 'Terremoto". I was running. I burst through the door to the stairway. I tried to grab at the hand rail, but the quake threw me away from it and against the other wall.
I tore down the 4 flights of stairs, through the door, and across the lobby. I got through the front door of the building and overtook the doorman as we reached the gate.
Outside in the street, I breathed for the first time. Even on the flat concrete, it was still hard to stand up. I looked up at the power lines whipping above my head, and moved down the street to a safer spot. The doorman looked at me as if to say, "How the fuck did you get here before me!".
The ground stopped shaking us and we were able to stand normally again. I looked around and took stock of the situation. Other people were emerging from their homes. Couples and families hurried out into the street, and huddled together in small groups. Power had been lost, and the city was plunged into darkness. We stood in the urban moonlight. My body shook from adrenalin, and as I looked up at the sky, I saw the stars for the first time in Santiago.
My flat mates emerged from the building, clearly shaken. Residents gathered together in a large group and made sure that everyone was accounted for and ok. Once the shock had worn off, people began to think of their loved ones. Families huddled around mobile phones trying to reach some special person. The networks were swamped, and calls were impossible. Text messages went through, and relieved smiles and hugs broke-out as people got word that they're friends and families were safe.
Others, unable to get a message out, jumped in their cars and sped off through the unlit roads. Traffic lights were down across the city. Suddenly the streets were full of cars speeding recklessly through the night, trying to get across town to find a loved one. The junction on the corner became dangerous. Wheels squealed and horns sounded as motorists slammed on their brakes and swerved to avoid each other. A brave man ran into the intersection and directed the hectic traffic, screaming orders in the night.
The building was closed while the power, water, and gas lines were checked. After about half an hour we were allowed back in to find cellphones and warm clothes.
Back upstairs, I grabbed my phone, and some clothes. I looked out the window to see if any buildings were missing, the city skyline was silhouetted black against the bright moon sky.
It was nerve racking being back inside amongst the dark, silent carnage of fallen possessions.
I hurried back outside to rejoin the group.
The building was checked quickly for obvious structural damage and broken pipes. With none found, we were allowed back in. No one moved. Nobody wanted to be back inside, especially with the ever present threat of an aftershock.
At about 7, as the sun was rising, families began heading back in to put their children to sleep and begin the cleanup.
Tiredness overtook me (I hadn't been to sleep yet), and I too wandered back up to my room.
After picking a few things up, I lay down in bed.
I exchanged a few text messages and phones calls with friends around the city. I spoke on the phone to those I knew with family in the south, near the epicenter, and wished them the best. I can't imagine what they must have been thinking.
Looking back now, a few hours on, the whole experience seems a bit surreal. I can say, without a doubt, that I have never been as scared as I was for that 45 seconds that I was inside. I've never had an adrenalin reaction like that.
The earthquake, which measured 8.8 on the richter scale (1000 times more powerful than the Haiti quake of last month), was the most powerful force I have ever felt. It tossed me around inside my apartment like a rag doll. I cannot imagine a force more violent, and cannot fathom the fear and terror the 200,000 people near the epicenter in Concepcion must have been through, and are still going through.
There have been about 27 aftershocks rating over 5.0 on the richter scale so far, the most powerful was at 7:30 this morning and measured 6.9 on the richter scale (similar to the Haiti quake last month). Each tremor, no matter how small, stops my heart.
Here are some pics of the destruction caused a bit further south:
Source: http://www.theglobeandmail.com
Source: http://oneminiuteblog.com
Source: http://www.thestar.com/
Source: http://wsj.com
Source: http://bbc.co.uk
Source: http://news.sky.com
http://washingtonpost.com
Source: Huffington Post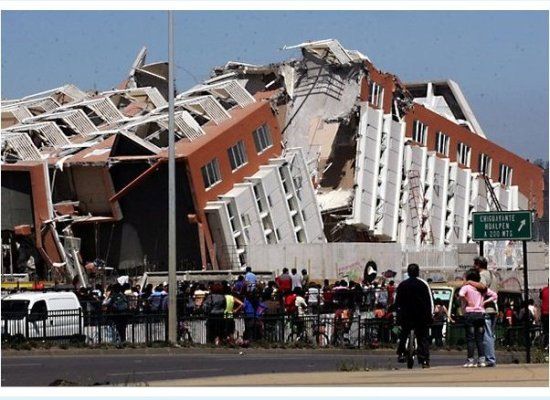 Source: http:nationalpost.com
Source: MSNBC.com
This raw video footage from the AP doesn't quite capture the violence, but it gives you a good idea! (notice how it starts quietly, and gets more vicious!)
Everyone at VE is accounted for and safe, as are all of the children we work with. The aftershocks continue: 37 so far, and I have no doubt that many more are to come.